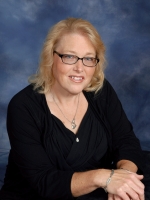 In addition to being the chancel choir director here at Albright, Ms. Fosbrink is also a teacher for the Connellsville Area School District. In the mornings, she takes the Land of Foz on a mobile cart to teach Word Enrichment at the Connellsville Area Middle School, and in the afternoons she teaches English 11 at the Connellsville Area Career and Technical Center.
After studying at Westmoreland County Community College, she acquired a baccalaureate degree in both English and Education from the California University of Pennsylvania. She then took classes at Seton Hill University and the University of Scranton before obtaining a master's degree from the Indiana Wesleyan University.
Donna thanks her family for instilling a love of music in her. She also thanks Don Witt and Merle Stutzman for fostering that love of music and enabling her to learn more about it. Additionally, she would like to thank her church family for always encouraging people to grow in sharing their gifts of music and generally putting up with the silliness that may ensue from time to time. Much love to you all.