Pastor Steve's Message on Sunday Worship Closures, Online Bible Study,55 and Over Luncheon Carryout, and the Need to Support the Church and One Another:
From the Pastor's desk of The Connellsville Cooperative Parish Serving Otterbein and Albright United Methodist churches
Who will separate us from the love of Christ? Will hardship, or distress, or persecution, or famine, or nakedness, or peril, or sword? ... No, in all these things we are more than conquerors through him who loved us. For I am convinced that neither death, nor life, nor angels, nor rulers, nor things present, nor things to come, nor powers, nor height, nor depth, nor anything else in all creation, will be able to separate us from the love of God in Christ Jesus our Lord. (Romans 8:35-39)
Brothers and sisters in Christ,
As news of the COVID-19 pandemic continues to dominate our news and we are asked as responsible citizens to practice social distancing and to avoid congregating in groups of more than ten, it has sadly come to the point that our churches of Otterbein and Albright suspend Sunday worship for March 22nd and 29th .
This decision was not taken lightly.  We entertained the idea of practicing hyper-hygiene and emphasizing that people who are ill must stay home.  But today, while praying through the pews of our churches and envisioning all of you, I came to the conclusion that it was prudent to err on the side of caution and accept that my love for you and my concern for your wellbeing must be first and foremost in my thinking.
Small groups of less than ten can still meet.  The 55 and over lunch will be served as take-outs on the 26th from 11 to 1.  Candy orders will be filled and ready for April 5th as we hope to again attend worship for Palm Sunday.  I will be doing a Bible Study on Facebook live on Wednesday evenings at 6:30 and you can receive a worship experience on Facebook at 10:30 AM or go the Albright webpage at www.albrightumcscpa.org .
I know that these are difficult times.  They are also times of uncertainty and fear.  But I want to assure you that your God is not practicing social distancing.  If nothing else he is drawing closer to you as you draw closer to Him.
For now, be patient and love one another.  Call your church family and friends.  And remember to continue to support the church so that it can continue to minister and meet its fiscal responsibilities.
You are in my prayers,
Pastor Steve
Rev. Steven M. Lamb
=========================
AUMC's April/May Newsletter
Click here:
April_May newsletterH Non profit Org
=========================
Western PA Bishop Koikoi on Faith During Corona
"The power we will demonstrate as we weather these uncertain times is not from us, it is from God.  This virus might press us, but it will not crush us.  We might be perplexed by what we see on CNN or Fox, but we are not in despair.  We might feel persecuted, but God has not abandoned us.  Some might be struck down, but not destroyed, by symptoms of COVID-19. For by the grace of God, we are the treasures of God in earthen vessels of clay.  Throughout this season of uncertainty, let us glorify our Maker!
Here are seven daily activities to help you weather these uncertain times:
Spend as much time reading scripture as you do watching and reading news about the virus;
Call someone you know is alone during this time and take a few moments just to listen to them;
Put on some praise music or hymns and have your own devotional time;
Wash your hands or use hand sanitizer every time you get into your car;
Twice a day, walk around the block, down the road, or down to the mailbox;
Don't join in the blame game that has become so much a part of our culture;
Offer to virtually babysit for a family that now has several children at home;
Set a time to FaceTime the children, have a video tea party, play video games with them online, or watch a movie at the same time.
Follow guidance from local, state and federal officials
I am certain that:
I believe in God the Father Almighty, maker of heaven and earth.  And in Jesus Christ, His only Son, our Lord; who was conceived by the Holy Spirit, born of the Virgin Mary, suffered under Pontius Pilate, was crucified, died, and was buried. And on the third day he arose from the dead; he ascended into heaven, and sits at the right hand of the Father Almighty. From there he shall come again to judge the living and the dead. I believe in the Holy Spirit, the holy Catholic Church, the communion saints, the resurrection of the body, and the life everlasting!  
Read the Bishop's March 11 message at: https://www.wpaumc.org/newsdetail/in-such-a-time-as-this-a-message-from-our-bishop-13440612
Easter Candy Fundraiser
Our Oompa Loompas have been busily making chocolate candy for Easter.
The Chocolate Factory Oompas
Sorting and Packaging Oompa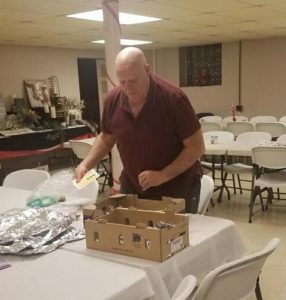 Little and Big Dipper Oompas
Use the order form found below Put order form with your money and give it to Bev or drop them into the offering plate.
We thank you in advance for helping with this important annual fundraiser.
=====================================
AUMC's February - March Newsletter
Click here:
===========================
Our Easter Candy Fundraiser Has Begun
Please give your order form and payment to Bev Lamb.  Make checks payable to "Albright UMC."
Here is the order form that you may download and print: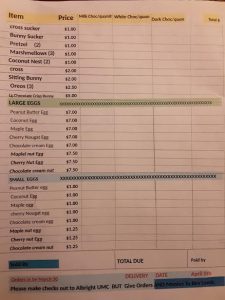 ===========================
Pastor Steve (and Bev) Appreciation Dinner
Pastor Steve and Bev were shown our appreciation for their years of service to our congregations at a catered dinner held in their honor on October 20th at Otterbein UMC.
Thank you two for all you do!!!
The following are a few pictures of the event:
A Senior Care Resource
Caring.com is a leading senior care resource for family caregivers seeking information and support as they care for aging parents, spouses and other loved ones. Click here:
Caring.com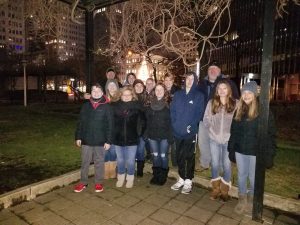 AUMC Youth Group Help the Homeless in Pittsburgh
Our Youth Group, Leaders and adult chaperones traveled to the Burgh to provide warm clothing to the needy residents of the city.
===============================
Council of Bishops Call for Special Session at St Louis Conference
The Council of Bishops has called a Special Session  of the General Conference of The United Methodist Church to be held February 23-26, 2019 in St. Louis, Missouri. The purpose will be to receive and act on a report from the Commission on a Way Forward based on the recommendations of the Council of Bishops. The 32-member Commission was authorized by General Conference 2016 and appointed by the Council of Bishops to examine paragraphs in The Book of Discipline concerning human sexuality and exploring options to strengthen the unity of the church.
2018 Western PA Conference Offers Hope
Read about the conference, the state of the church, legislation, laity session, youth in action and a prayerful way forward regarding the LGBTQI issue by clicking the following link:
https://www.wpaumc.org/newsdetail/annual-conference-offers-hope-11499167
Posted here is a unedited link to Videos of the 2018 Western PA Conference Daily Sessions.
============================
South Connellsville Fire Department Conducted a Drill at AUMC on June 16th
===========================
June/July AUMC Newsletter - Click here: June_July 2018 Newsletter
===========================
AUMC Youth Group Places Flags on Veteran's Graves
The AUMC Youth Group and adult leaders provided a public service by placing flags on military veterans graves at St Rita's Cemetary on Saturday, May 19th. Cemetery flags, also known as grave marker flags, act as a tribute to deceased veterans who provided honorable service to our country.
===========================
The AUMC Youth Group's Dinner and Play – "Panic at the Disco"
The house was packed for the Sunday, April 15th long-awaited event - The AUMC Youth Group's Dinner and play – "Panic at the Disco."
With dance lights swirling at "Club 66," the narrator set the stage and introduced the characters of this murder mystery that the Youth Group wrote themselves. With background music of the 70's and some dance moves that took many in attendance back to the "Good Old Daze," the actors set up Act One which led to the main character collapsing on the dance floor… The "who dunnit" then led to the dinner break where attendees were encouraged to discuss their thoughts over an excellent meal that included Lasagna Rollups, tossed salad, drinks and a dessert. Guests then placed their ideas of the murder suspects on a piece of paper, which were turned in and tallied.
Act Two opened with the narrator recapping the events leading up to the present - and the main character's crumpled body still on the dance floor. Through some twists and turns the culprit was finally revealed much to everyone's surprise. Only a half dozen of the 50 or so guests correctly guessed the murder suspect.
The play ended with the cast call: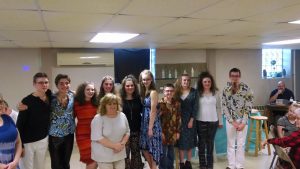 Then some dancing ensued:
With Pastor Steve (white shirt) putting on some of his best "Get down… Boogey oogy oogy" moves:
Compliments to the Youth Group for a really fun event. Thanks to Sherri and the other cooks for a great dinner. Lastly, thanks to all who came out for this fun event. It was a GROOVY experience.
Proceeds will be going to our Youth Group's programs. In a few weeks they are going on a trip to Pittsburgh where they will be providing meals, socks and underwear to the needy in the city.
By Bob Martin, AUMC Webmaster
===========================
Click the following for AUMC's April_May.newsletter
===========================
New electronic piano donated to the church.  Special thanks to the Bud and Audie White family for their wonderful donation of this electronic piano. The piano was donated in memory of their parents on their 75th wedding anniversary. Pictures below are organist Jeanne Meyers at the new piano and the commemorative plaque.
KatyDids are conducting a fun fundraiser during the month of March.  They have placed peel off calendars at several entrances of the church and in the second floor hallway.  Please help with this effort and have fun.
55 and Over Luncheon on February 22nd Has Large Turnout Despite the Weather - Open face turkey sandwich, dressing, mashed potatoes, green beans and gravy - Yum!!! Thanks Steve and Bev for a great lunch.
Albright UMC February & March Newsletter - Click here: Feb_March.newsletter
Hanging of the Greens Service was held in conjunction with our Youth Group's play Christmas in Cricket County. Click the following link to view the event:  Hanging of the Greens Service - 2017
Albright UMC December & January Newsletter - Click here: AUMC DecJan.newsletter
Pastor Appreciation Luncheon - Click here for the story and pictures: Pastor Appreciation Day Luncheon 2017
Our October Chicken and Biscuit Dinner - Behind the scenes - Click here for the story and pictures: Our October 2017 Chicken and Biscuit Dinner Fundraiser – Behind the Scenes
Albright UMC October & November Newsletter - Click here: AUMC_Oct&Nov_Newsletter
Albright UMC August & September Newsletter - Click here: AUMC August & September Newsletter
Albright UMC June - July 2017 Newsletter - click here: AUMC June&July17newsletter
Bailee Hiles Receives VFW "Voice of Freedom" Award - Click here: Bailee Hiles Receives VFW Award
Saturday Morning Special Celebrates 40 Years at AUMC - Click here: Saturday Morning Special 40th
The "Price Is Right" Youth Group Dinner was a hoot!!! - Click here: Our Youth Group's The Price is Right
AUMC Graduation News - Click here: 2017 Graduation News
Albright Supports VIM Team in the Area to Help Flood Victims - Click here: Albright Supports VIM Team in the Area to Help Flood Victims
The First Mixed Up Dinner - What a Blast!! - click here: Mixed up Dinner Review by MacGyver
Albright UMC April 2017 Newsletter - click here: April 2017 Newsletter
Western PA UMC Conference Website - click this link to visit - WPAUMC.ORG
New Connellsville District Superintendent Named - click this link to read the announcement - Bob Zilhaver Named Connellsville District Superintendent
Jumonville Summer Camp - Click this link to view -  https://jumonville.org/summer-camp-2/