Welcome To Albright United Methodist Church!
"...to spread the message of Jesus Christ to the church and community."
AUMC Returns to 10:45AM Indoor Worship starting September 6th
Pastor Steve announced plans to return to in church services on September 6th.  We will continue to record and post on Sunday Services on this website.
===========================
NEW!!! The AUMC August/September Newsletter has been posted in the Links, Event Reviews and News Section located in the bar above.  
=====================
Alicia Keys sings "Good Job" dedicated to all those who are keeping the world running during these trying times.
Click here: https://www.cnn.alicia-keys-cnn-song/index.html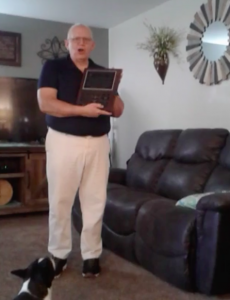 Albright UMC is awarded the District's 2020 Circuit Rider Award
At the recent Connellsville, PA District Conference, Pastor Steve was presented with the Circuit Rider Award for Albright United Methodist Church.  The citation is for best growth of congregations in the district and refers to AUMC's success in community outreach and its warm and friendly welcoming of new members.
Sooo... Congratulations AUMC, Pastor Steve and Bev.  You two are our own Dynamic Duo who make all good things possible in our little corner of the world...!
To view Steve's video click here:  https://youtu.be/Nyl51FcrYMc